EQUIPMENT SALES
BATCHING EQUIPMENT
CDI offers a range of both wet and dry mobile batching plant models. These batch plants can be erected in less than 4 hours on-site and have In-truss dust collection. The dry mobile batching units are the most time efficient and cost effective batching plant available today on the market, and the wet mobile batching plants are the most portable wet mobile batching plant in the industry. Below is a small sample of the mobile batching equipment we offer.
Call us at (855) 234-5350 to discuss your production construction needs.
Mobile Air by Stable Air
With the quality and technology of Stable Air and the convenience of on-site usage, our custom machines can revolutionize the ease of air entrainment in the concrete and construction industry. For specifications, view the Mobile Air by Stable Air brochure. In addition, this unit can be matched with any Stable Air aerator model. For pricing quotes, please call (855) 234-5350.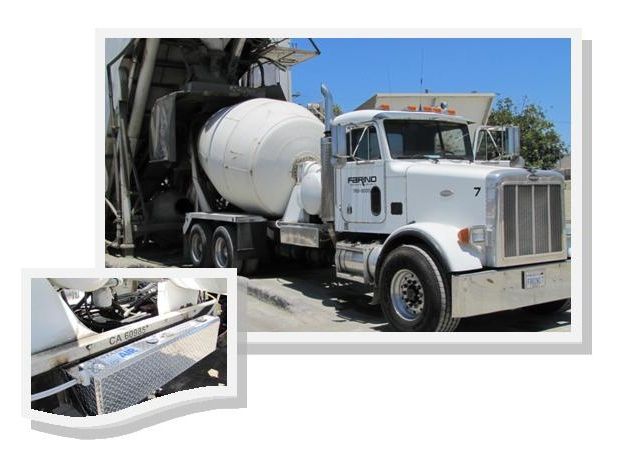 DampCon Rig
This unit is equipped with a 9 cubic ft. capacity paddle style mixer with wipers and swing out capability, material elevator, and the proven 020 'Piccola' rotary gunite machine that includes the single bolt clamping system. The Dampcon Rig was designed for simple operation, easy clean up and minimal maintenance. The unit is ideal for precise refractory gunning installations and concrete repair applications. View specifications.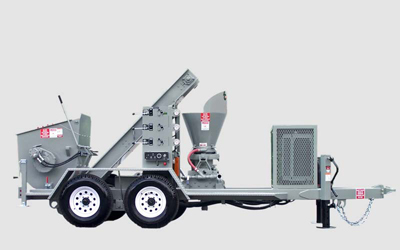 HBS-1500
The HBS-1500 is equipped with a 12 cu. ft. hydraulic spiral mixer (30 second mix time) that dumps into a 26 cu. ft. receiving hopper that includes a conveying hydraulic agitator. A receiving hopper and pump manifold unclamp from the pumping tubes allowing easy clean up of the ball-seat manifold and material pumping tubes. The HBS-1500 can also be used to pump concrete mixes up to 1/2 in. aggregate positioning this machine as the most versatile and user-friendly for gypsum flooring contractors. Best value, most versatile, longest pumping distances, and lowest maintenance mixer-pump on the market! View specifications.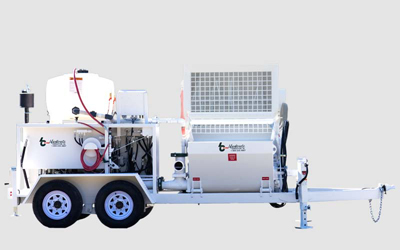 MX-20CM
This machine can be used for both small refractory installations of 2-3 tons per hour as well as high volume installations of up to 25 tons per hour. The machine features a compact two-stage high-shear primary continuous mixer where the material is hydrated, and a medium shear secondary mixer that is mounted in the receiving hopper of the 4 in. high pressure swing tube pump. The efficiency of the two stage mixer and pump with oversized differential allow for the machine to require only 100 H.P. which lowers fuel consumption by 50% when compared to competitive machines. The towing weight of the machine is only 7,500 pounds. View specifications.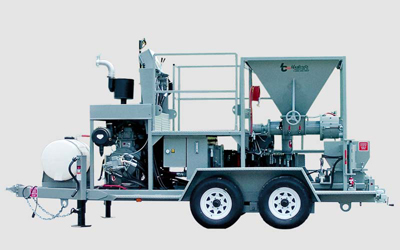 D6528-MP
Designed for field batching and pumping up to 12 cubic yards per hour, this unit includes a 9 cubic foot hydraulic spiral mixer that hydraulically dumps into our 12 cubic foot receiving hopper. From the hopper, the material is pumped by our D6528 3 inch hydraulic squeeze pump with variable speed from 0-12 cubic yards per hour. This machine is a popular solution for gypsum flooring applications as this unit is more reliable and user-friendly than competitive equipment. View specifications.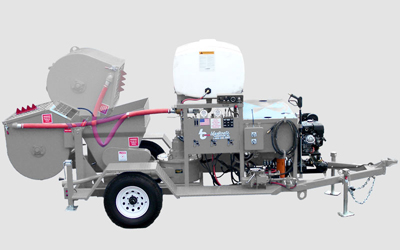 Dry Mobile Batching Plants
Wet Mobile Batching Plants