CONSTRUCTION & FORMING SYSTEMS
In order to meet the world's housing demand for safe and efficient houses at a low cost, we have perfected a construction method using a factory production onsite to remove shipping and assembly cost that increases speed and productivity with far less defects.
Our method can produce a large numbers of homes in shorter time and at a below cost standard with the following:
Structurally sound
Highly energy-efficient
Comfortable to live in
Can be mass produced
Can be built with an unskilled laborer
Cost effective
Fire retardant
Provides strong barrier for high velocity winds
We emphasize that staging the site with the proper tools and equipment is essential and can alter the design to accommodate this method of construction. Each site is evaluated to find the most efficient use before layout of all work areas and production facilities. Each onsite factory is laid out to fit into the construction area so as to increase production rate and not inhibit construction flow.
FORMING SYSTEMS
CDI uses the most innovative and reliable forming systems to build quality homes that last. Read more about these forming systems,
TF Forming & Insul-Deck
below.
TF Forming System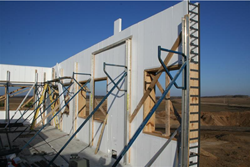 The most innovative state-of-the-art concrete wall systems in the industry, TF Forming System boasts a vertical ICF system design that creates resilient structures with stronger, straighter, and taller concrete walls. In addition, the benefits include:
Easy to use and install
Vertical orientation allows for design flexiblity
Lighweight components offer safety to crew
Ability to install & pour in cold climates; expands days to build
Ability to slide panels to accomodate tall wall pours & consolidation
Insul-Deck Floor & Roof System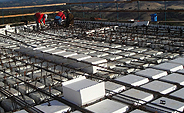 INSUL-DECK is a stay-in-place insulating concrete forming system for precast concrete and joisted concrete floors and roofs. The system is the result of years of research, design and practical field experience.The panels are produced by a continuous molding production line, able to integrate the insulating capabilities of EPS with the structural strength of metal inserts.

With Insulated Concrete Forms for floors, roofs and tilt-up walls, the Insul-Deck System is ideal for both residential and commercial construction, INSUL-DECK buildings are not only more comfortable, quieter and super energy efficient, but also provide safety from hurricane level winds, fire and floods. It is a fast, flexible and safe method to build a concrete floor or roof that saves labor, time and money.